Dalla Fabbrica della Candele di Forlì l'evento online "Meet the Meeting"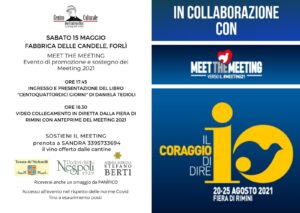 Il Centro Culturale Don Francesco Ricci di Forlì, in collaborazione con Meet the Meeting, presenta l'evento "Meet the Meeting", finalizzato alla promozione dei contenuti del Meeting, all'amicizia fra i popoli e collegato a una campagna di raccolti fondi a sostegno dell'edizione che si tiene ogni anno nella nuova Fiera di Rimini e che quest'anno torna in presenza. L'evento è in programma per sabato 15 maggio nello spazio cittadino della Fabbrica delle Candele.
L'ingresso sarà possibile dalle ore 17.45 e nell'attesa dello streaming sarà presentato il libro "Centoquattordici giorni" di Daniela Tedioli (Capire Edizioni). Alle 18.30 la diretta dalla Fiera di Rimini in videocollegamento. Saranno distribuite le bottiglie di vino donate dalle Cantine Berti, De' Stefenelli, Poderi dal Nespoli e prenotabili a questo contatto: 339.5733694 (Sandra).