Forlimpopoli aderisce al progetto "bike to work" per una mobilità sostenibile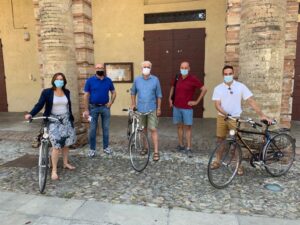 Il Comune di Forlimpopoli premia i cittadini che scelgono la bicicletta come mezzo alternativo all'automobile per recarsi al lavoro. Dal 15 al 20 luglio è possibile presentare le domande per aderire al progetto "bike to work", compilando la modulistica predisposta reperibile sul sito del comune ed inviando il tutto via e-mail a FMI. L'incentivo previsto dalla città Artusiana è di 0,20 euro al Km fino ad un massimo di 50 euro al mese per cittadino pedalatore; il progetto, in questa fase, durerà dal 21 luglio al 30 novembre, ulteriormente prorogabile in funzione del successo che risconterà e dei fondi a disposizione. Al momento la copertura finanziaria è garantita solo da fondi propri, visto che Forlimpopoli non ha le caratteristiche per poter attingere ai fondi statali e regionali (anche se si spera che questi siano presto allargati anche alle piccole cittadine).
Forlimpopoli si trova sulla via Emilia, in posizione baricentrica tra Forlì e Cesena, in prossimità di diverse zone industriali. Negli ultimi anni ha investito moltissimo nella realizzazione di piste ciclabili, fra cui quella lungo la via Emilia che la collega a Forlì e che presto raggiungerà la Panighina. Con questa ulteriore azione l'Amministrazione Comunale vuole spingere verso una mobilità a basso impatto ambientale, per il miglioramento della qualità dell'aria, la diminuzione dell'inquinamento e il miglioramento della salute dei suoi cittadini.