Ceub di Bertinoro: con la 18esima edizione del Fosad
si parla di cybersecurity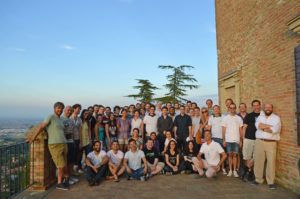 Dal 27 agosto al 1 settembre, si svolge, presso il Ceub, la "18th International School on Foundations of Security Analysis and Design" (Fosad 2018), un evento formativo, che, dal 2000, si tiene ininterrottamente a Bertinoro.
La scuola, promossa da un Comitato Scientifico composto da esperti in materia di cybersecurity quali Martin Abadi, Alessandro Aldini, Gilles Barthe, Eerke Boiten, Sandro Etalle, Javier Lopez, Fabio Martinelli (chair), Catherine Meadows e Bart Preneel, è rivolta a giovani ricercatori, al fine di diffondere la conoscenza in merito ad un'area di ricerca complessa come quella della sicurezza nei sistemi informatici. Le materie abbracciate dal corso includono linguaggi di programmazione, analisi dei protocolli, algoritmi crittografici e politiche di controllo degli accessi: in particolare, nel programma dell'edizione 2018, trovano spazio anche tematiche di grande attualità come la sicurezza dei dati e la privacy degli utenti sul web.
Dal 2000 fino alla 17esima edizione del 2017, hanno partecipato a Fosad ben 840 corsisti e 150 docenti provenienti da Atenei di tutto il mondo: quest'anno sono presenti 36 giovani ricercatori da tutto il mondo e un team di esperti di fama internazionale, composto da Sabrina De Capitani di Vimercati (Università degli studi di Milano) sul tema "Data protection in cloud scenarios", Catalin Hritcu (Inria Parigi) sul tema "Formally secure compilation", Adrian Perrig (Eth Zurigo, uno dei massimi esperti mondiali sulla sicurezza in internet) sul tema "Secure Internet architectures", Nigel Smart (Ku Leuven – Belgio) sul tema "Secure multi party computation" e Kunal Talwar (Google) sul tema "Differential privacy".
Di particolare rilievo è il fatto che, fin dalla prima edizione, gli atti di Fosad sono stati pubblicati da Springer, gruppo editoriale internazionale, specializzato nella realizzazione di opere scientifiche, tecnologiche e medicali.