Casa Artusi: una delle chef della struttura forlimpopolese sul New York Times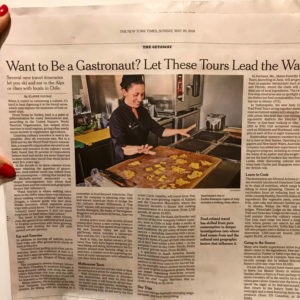 Un tagliere con in bella mostra tagliatelle, cappelletti e tortellini, accompagnata dal sorriso di Carla Brigliadori intenta, nella sua divisa da chef su cui campeggia in evidenza la scritta "Casa Artusi", a raccontare i prodotti gastronomici della Romagna, è questa la foto comparsa domenica sul New York Times.
A incorniciare la foto che ha portato oltreoceano l'immagine di Casa Artusi e della sua scuola di cucina, un articolo in cui il noto quotidiano americano racconta l'evoluzione del turismo gastronomico che sempre più spesso porta il turismo nelle aree rurali: oggi non si viaggia per mangiare ma per scoprire la provenienza di piatti e prodotti e conoscere la cultura che è alla base delle cucine locali. Motivo per cui, spiega l'autrice del pezzo Elaine Glusac, stanno prendendo sempre più piede vacanze che al piacere del mangiare uniscono quello del cucinare, come i tour gastronomici organizzati in Italia da Tourissimo che abbina sport all'aria aperta ed enogastronomia e che, tra le sue mete, vanta proprio l'Emilia-Romagna, food valley e wellness valley d'Italia, e i corsi di cucina in Casa Artusi.
Insomma, un articolo e un titolo, "Want to be a gastronaut? Let these tours lead the way" (Vuoi diventare un gastronauta? lascia che questi tour ti aprano la strada), quanto mai calzanti per chi da sempre porta avanti la filosofia culinaria di uno dei più celebri gastronauti al mondo, Pellegrino Artusi, il cui manuale ha avuto almeno otto traduzioni destinate al mercato nordamericano, diventando volano e driver non solo per il turismo del Belpaese, ma anche per la destinazione Romagna.